Facebook is driving me crazy at the moment and I really feel like I can be the real me here, after all, it's my journal and all those nosey people who have been making my life sheer hell lately don't know I exist here!

I'll do a proper update later, but right now, I have to go and sort out all the house work and go swimming (my latest obsession!) Plus, I have a huge crush on someone at the swimming pool :)

Anyways, be back in a little while . . .
Emz
x x x
I've finally decided to come back and stay here,

Talked about nothing I hadn't done before but it was still great fun.

Not there next week because it's Christmas week, Bah!

Off to finish wrapping my Christmas presents now :)
I've been in group today, it was really good.
Current Mood:

chipper


A friend hung himself

I'm a mixed up girly at the moment

Thank heavens for Mr Pickles
Just when I thought things were getting better
Current Mood:

confused

But, just not doing too well :(

Got my meds from the doctor this morning.
Now I just feel SO tired
I'm stll alive :)
Current Location:

back bedroom

Current Mood:

confused

Current Music:

Pink, Who Knew


Merry Christmas Everyone


Current Mood:

complacent

Current Music:

All I want for Christmas is you!


Then I think I'll take a walk into town, I'm craving some chocolate Brazils!

And this afternoon, I need to bath Marmite
I'm going riding with Uncle Ian this morning :)
Current Mood:

okay

Current Music:

The Calling, Where ever you will go

He was SO good and SO perfect.

The only time I feel totally free and away from my eating disorder is when I'm riding Marmite. It's like when I'm riding nothing else in the world matters apart from achieving total perfection form us as a team.

I'm pleased with second today, the competition was strong.
Yet all I can hear is my Dad saying "second place is the first looser"

No wonder I'm screwed up :(
In a huge class of 36, Marmite and I came second today :)
Current Mood:

okay

Current Music:

Jamelia, Superstar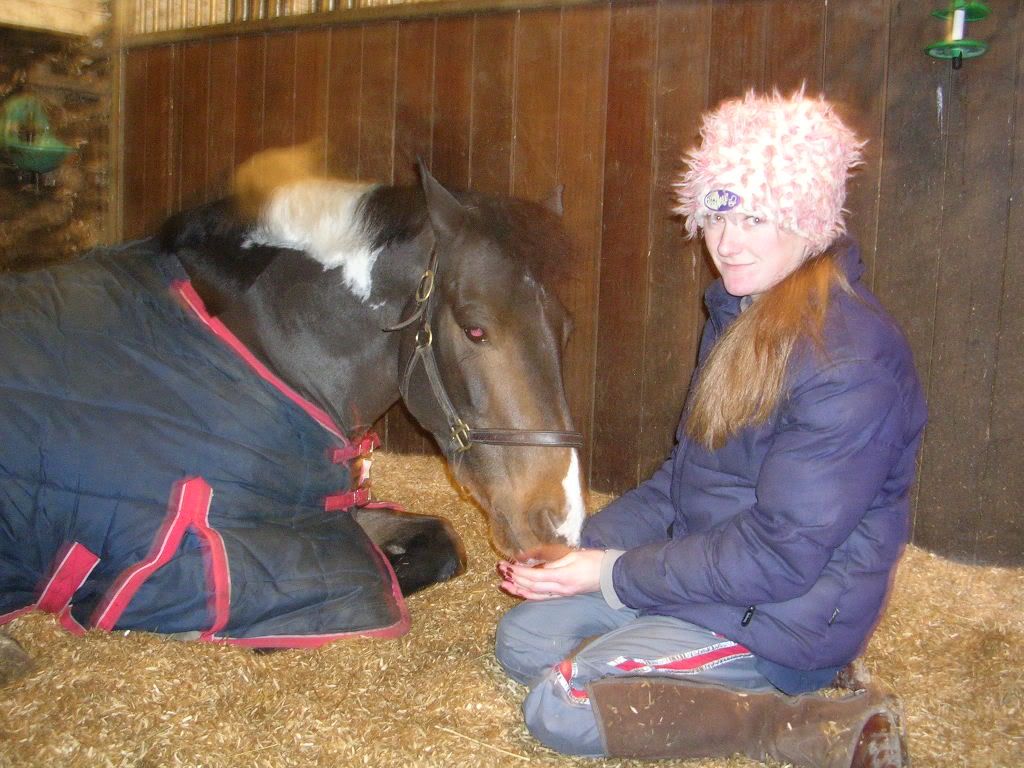 I love how I can sit on the floor with him, well actually,
I just LOVE him!!!
Today in theory, should be fun. But who knows how it will turn out.
Am riding Marmite in the arena with Uncle Ian at 11.15am.
Having my hair highlighted and trimmed at 2.30pm.
Going to the party at 7.30pm :)
I plan on not eating so I can enjoy myself tonight.
Tomorrow, I MUST do some work for uni, I'm starting to get stressed about it all
Current Mood:

okay

Current Music:

Ash, Oh Yeah
Marmite and I won our class and stood Champions!!!
Henry and Lottie got 2 firsts, wins all round!
Here's the piccy . . . .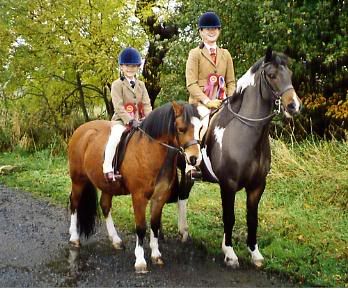 Brayan Adams, was fun, but we had the SHITTIEST seats ever, not to mention a glass of wine was 2 pound 70pence
AND . . . . . . .
He only played The Summer of 69 acoustic!
WTF?!?!?!?!?!??!?!?!?!?!?!?!??!!?!??!?!
But he did play my Dad's song and Rosie's song, I had a fantastic time, I can't grumble really ;)
Got a film from the camera developed today, I know we are prehistoric and everyones got digital nowadays, well, we don't!
So here's a pic from Ponies UK in August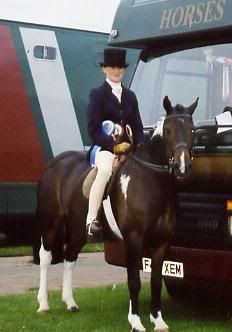 And another from Chaps, just after Ponies UK!
TODAY . . . . . .
I've been happy, pissed off, chatty and moody. But more so, I've started my Youth Cultures essay, it's due in on the 8th of December. But the question is SO screwy, I needed to make an early start!
Yesterday was kinda fun and not fun at the same time!!!!!
Current Mood:

cheerful

Current Music:

Avril, He Wasn't


If you add me to your friends list and I notice, I'll add you to mine in return.
"Have you ever confused a dream with life? Or stolen something when you have the cash? Have you ever been blue? Or thought your train moving while sitting still? Maybe I was just crazy. Or maybe I was just a girl... interrupted."